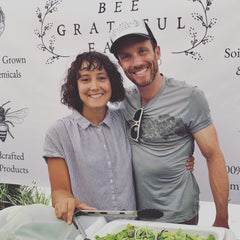 Bee Grateful Farm
, ,
Email Address: orders@bcfm.org
About Us
Hethir and Jason Rodriguez have been keeping bees since 2013. In 2016 they bought a piece of land outside Steamboat Springs CO, with the hope of starting a small garden, raising a few animals, and living more in harmony with nature. After seeing the demand for locally grown veggies in Steamboat, that small vision quickly evolved into a community farm with 170 CSA members, serving farmers markets in Steamboat Springs and Vail CO, and providing food for a handful of local restaurants committed to sourcing local ingredients.
In the winter of 2019 Hethir and Jason became interested in the idea of making candies from local honey, a much healthier and more sustainable sweetener than cane sugar or other syrups currently being used in candy production. They took their honey caramels and lollipops to the farmers markets to sell alongside the farms vegetables, and they quickly became a hit, outpacing all vegetable sales at the booth. After customers started coming back week after week and purchasing 5-6 bags at a time for friends, family, and just to stock up for the winter, Hethir and Jason knew they had something special. And so... Bee Grateful Farm's "Heavenly Honey Caramels" were born!