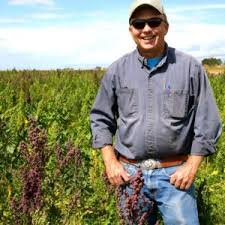 White Mountain Farm
City: Mosca, CO,
Email Address: orders@bcfm.org
About Us
White Mountain Farm is located in an ancient lake bed called the San Luis Valley. It lies between the San Juan and Sangre de Cristo Mountains of the Southern Colorado Rocky Mountains, at an elevation of about 7600 feet.
The farm has been in the family since the 1930's. In the late 1970's and early 1980's, the main crops were organically grown wheat, alfalfa, and sheep. In 1984 we started experimenting with Quinoa and in 1987, White Mountain Farm was incorporated, named after Mount Blanca, and started growing certified organically grown Quinoa and potatoes. Since then we have added rye and a variety of vegetables to our rotation. In 1987, White Mountain Farm was the first large-scale Quinoa operation in North America. Over the past years we have been selecting the best tasting Quinoa and potatoes to offer our customers. Our goal is to offer good tasting, high quality Quinoa and potatoes at reasonable prices.


Practices
Certified USDA Organic!

This Mother Grain of the Incas has been grown in the Andes of South America for centuries. Quinoa is a small seed about the size of millet. It is very high in protein and is closer to the United Nation's FAO ideal balance for amino acids than any other common cereal grain. Quinoa is high in essential amino acids: lysine, methionine, and cystine, which are particularly important for vegetarian diets and in correcting deficiencies in legume diets. Quinoa is high in calcium, phosphorus, iron, vitamin E and some of the B vitamins. Colorado-grown Quinoa has a rich, delicate, nutty taste and can be substituted for nearly any grain in almost any recipe.
Quinoa is quick and easy to prepare and expands about three times when cooked. All Quinoa orders come with free Quinoa recipes.