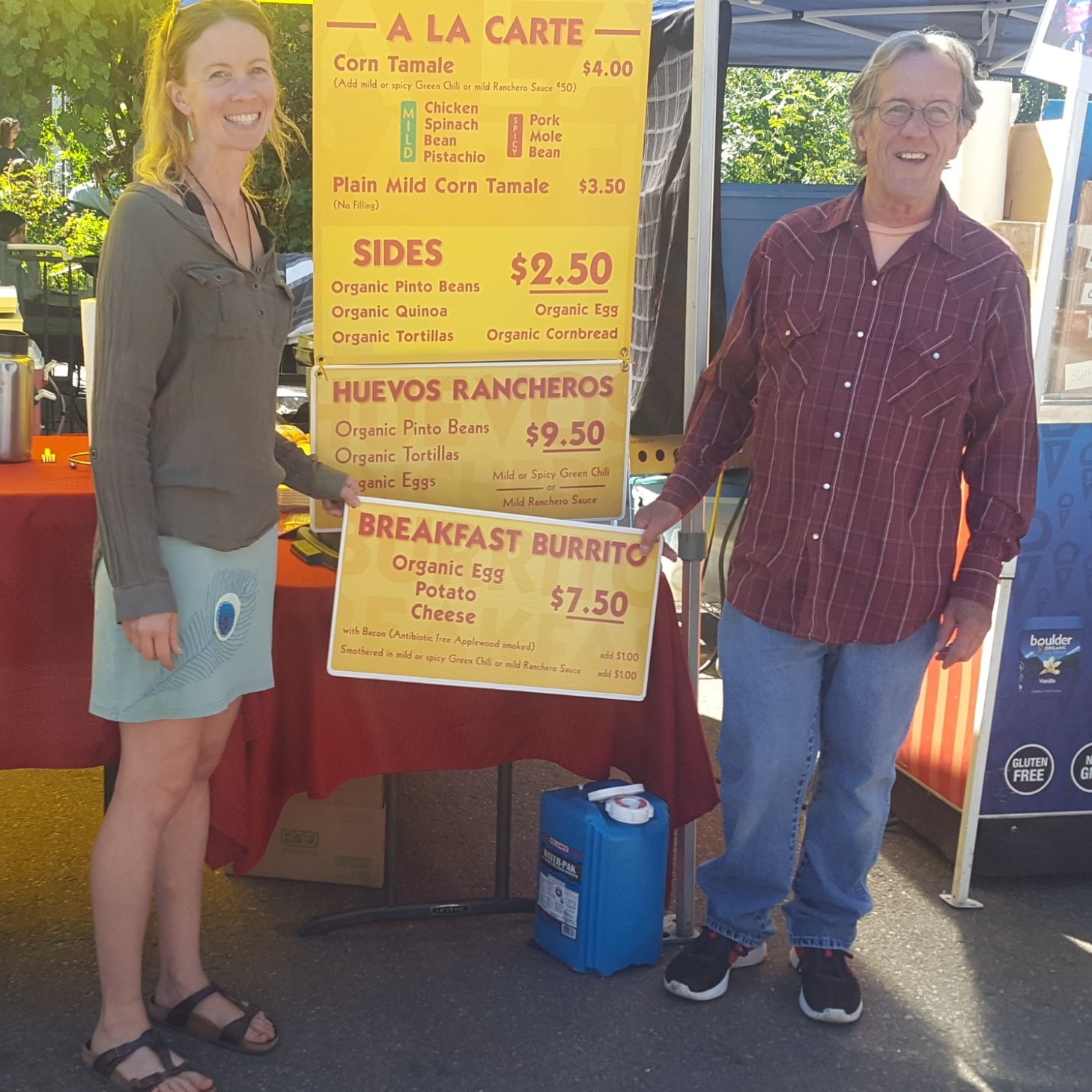 Amaizing Corn Tamales
City: Boulder, CO,
Email Address: orders@bcfm.org
About Us
In 1989, Richard Convertito walked through the budding Boulder Farmers' Market and thought it would
be a great place to sell his Amaizing Corn Tamales. "I talked to Farmer John and he talked to the board of
directors," recalled Convertito. "They said yes, and I started at the market with only a card table, a cooler
of frozen tamales, and a few pots of warmed-up tamales for people to eat right there," he added. The first
prepared food vendor accepted to the market, Convertito's insight has contributed to the enduring
success of the Boulder County Farmers' Markets. Customers now enjoy shopping for locally grown
products as well as locally prepared food.

Twenty-three years later, and the first food vendor to serve on the Markets' Board of Directors,
Convertito is still selling his now famous tamales and looks forward to each season. "We're a big family
and every spring is like a homecoming," he said. "The farmers' market is a community of people who
come together to promote farming in Boulder County, and I strongly feel a part of that. We're making and
selling good food... local food... doing a great service, and doing it as a community."
Amaizing Corn Tamales started in the early '80s as a little bakery business called the Hopi Bread
Company. Convertito added tamales to his list of products after visiting Tucson and falling for the local
version. "We make a gourmet tamale, they're a little different than the typical northern Mexican tamale,
we don't use any lard. They're a softer tamale made mostly with pureed sweet corn," he explained. "We
eventually phased out the bakery because tamales were more fun and more profitable," he added.
During the height of the season, Convertito and his crew of four make approximately 4,000 tamales a
week for his thriving wholesale and farmers' market retail business. Each tamale is individually wrapped
in cornhusk and tied by hand. Flavors include vegan, vegetarian, chicken, and pork. "For many years we
just had vegetarian tamales," said Convertito. "Then we added chicken and pork. Now pork is by far our
best seller," he added. Amaizing also offers from scratch made mild or spicy green chile, and sides of pinto
beans and quinoa. Convertito sources ingredients directly from market growers whenever possible. "It's
a step up for the quality of our food. The integration of farmers' produce means better quality for our
customers and more prosperity for our farmers," he offered.
Convertito's 23 years with the Boulder County Farmers' Markets is defined by the connections he's
nurtured and cherished. "It is a community very personal in my heart.