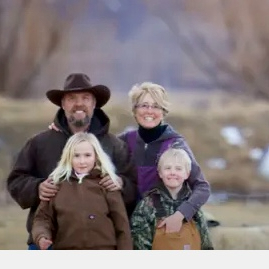 Buckner Family Ranch
Contact: Clint and MaryKay Buckner
City: Longmont, CO,
Email Address: orders@bcfm.org
About Us
Owner/founders Clint and MaryKay Buckner, like their livestock and their two spirited young farmhands, Amelia and Levi, were raised in the fresh, high altitude air and vibrant sunshine unique to Colorado. Here, in the foothills of the Front Range, their love of community-focused, farm-to-table farming and ranching took root.
Since our inception in 2011, a greater appreciation for fresh, locally raised meat has allowed us to build a thriving, family-run business in the heart of northern Boulder County.
Practices
Whether it be lamb, pork, or beef, we believe the combination of breed, the 100% grass-fed diet (backed by American Grassfed Association certification), and the natural, stress-free environment within which our animals live creates the tastiest and finest local meat available. You just can't beat the quality and flavor of our specialty meat.

By purchasing meat from Boulder Lamb & Meats, you ensure that your dollars are spent supporting a small, family-run business and on quality, responsibly-raised meat. In essence, you are supporting agriculture that raises animals the way nature intended!