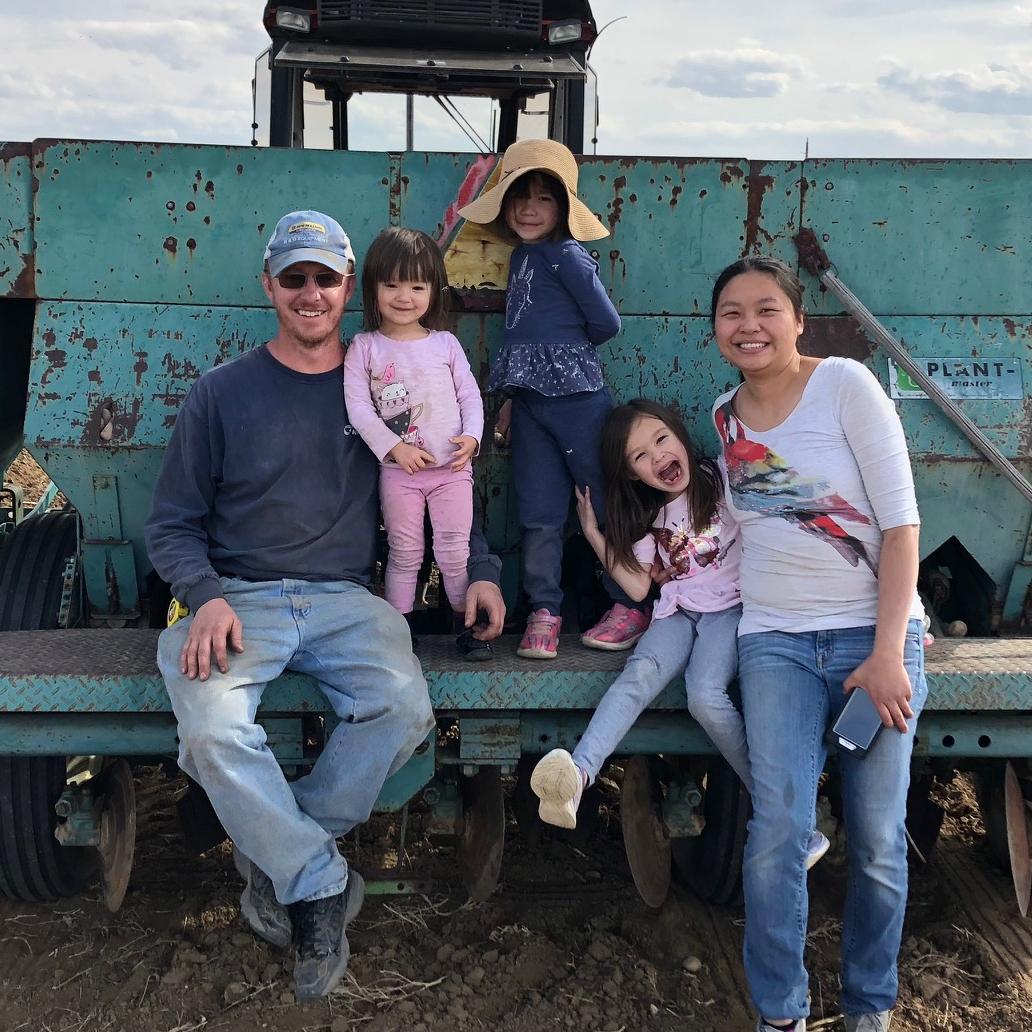 Hoffman Farms
City: Greeley, CO,
About Us
Hoffman Farms is a family operated farm specializing in fruits and vegetables. The farm is owned and operated by Hanmei Hoffman and Derrick Hoffman. They are proud to call Colorado their home, and their children are the 6th generation of Hoffman born in northern Colorado! They farm over 70 acres north of Greeley.

Derrick is a 3rd generation farmer. In fact, his family has been involved in Colorado Agriculture since arriving in 1903 as German from Russia immigrants who migrated here to work the sugar beet fields in northern Colorado. Derrick grew up farming 500 acres with his grandfather and father in the Johnstown area, growing barley, corn, pinto beans and alfalfa. After his Dad retired in 2002 he followed a career he started in 1996 in education that lasted for 22 years, supporting and managing technology systems, only to return to farming in small scale vegetable production in 2014 at the idea of his wife. With his family background in farming and past experience, he was able to expand their operation rapidly in the subsequent years.

Hanmei is a 3rd generation farmer, albeit not originally in America. Hanmei's family farmed fruits and vegetables in southern China, in the Fuzhou province. She conceived the idea of taking her husband's one acre garden and turning it into a business. She officially started Hoffman Farms in 2014, and built the business into what it is today by tirelessly seeking out new customers and finding ways to improve sales. This mother of three has the core belief that eating healthy should not break the bank.
Practices
Hoffman Farms is not USDA certified, but they use OMRI (Organic Materials Review Institute) products and follow organic growing guidelines with no pesticides, herbicides, etc and with nutrient dense soil. They have food safety and GAP (Good Agricultural Processes) certifications. They are also FSMA certified (FSMA is a rule that establishes requirements for: a written food safety plan, hazard analysis, preventive controls, monitoring, corrective actions and corrections, verification, supply-chain program, recall plan, and associated records.)

In addition to growing in nutrient dense soil on over 70 acres, in April and May they grow in a commercial greenhouse, where they primarily grow strawberries, along with snap peas and several lettuce varieties.

Here is what they we will have in 2021: Sweet Corn, Bell Peppers, Cherry Tomatoes, Strawberries, Green Beans, Wax Beans, Cucumbers, Summer Squash, Melons, Carrots, Beets, Potatoes, Onions, Winter Squash, Cabbage, Cauliflower, Peas, Edamame, Eggplants, Spinach, Romaine, and Brussel Sprouts; they will have different colors and varieties of those main crops!