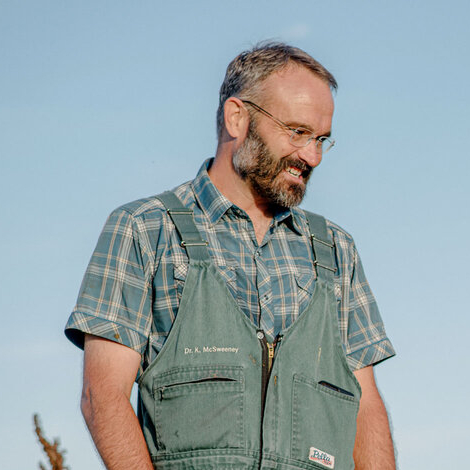 Five Freedoms Dairy
Contact: Kevin McSweeney
City: Galeton, CO, 80622
Email Address: orders@bcfm.org
About Us
Five Freedoms Dairy was founded by veterinarian Kevin McSweeney with the goal of creating a small but sustainable dairy focused on providing cows with a healthier and more enriched life. The centerpiece of this enrichment is Five Freedoms' system of leaving the cows with calves after they are born, an uncommon practice here in the US. In fact, Five Freedoms' mothers are allowed to care for and nurse their young for at least five months after birth. Additionally, our cows live outside with access to pasture, shade and soft bedding. Simply put, the cows are treated like the intelligent, gentle creatures they are, animals that so nobly share their milk with us.
Practices
At Five Freedoms we choose to put the health and welfare of our cows over production and profit.

We want our cows to live long, healthy and comfortable lives as they nourish us with their gift of milk.

We want mothers to nurse and stay with their young even if that means decreased yields.

We want to heal and care for our cows with an appropriate amount of medicine. We then wait above and beyond the time necessary to re-enter their milk into our system so that our consumers can rest easy knowing that Five Freedoms' milk is safe.

We want our animals to have access to sunlight and soft, warm beds.

We want to have a relationship with our cows that makes them more than just a number and dollar signs.

Finally, we want a relationship with our consumers, we want to share our practices and methods so you know that you're buying from a place where welfare and compassion come first.